Cape Coral, March 28th - Florida Gulf Coast Dutch Lions is excited to announce our 2nd defender for our Women's team. After the try-out practices, the coaching staff evaluates all the girls, and they decided to sign Ashlee Pendarvis. We had an interview with Ashlee Pendarvis and Head Coach Vincent de Weger.
FGCDL FC: Who is Ashlee Pendarvis?
My name is Ashlee Pendarvis I am 16 years old, and I am from Fort Myers Florida.  I am currently attending Riverdale High school and also FSW because I am a duel Enrollment student.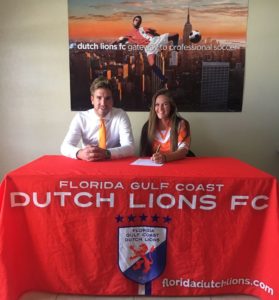 FGCDL FC: What soccer experience you bring to the Women's team?
I played for GPS West for the 2015-2016 season, and I am playing for the Cape Cyclones for the 2016-2017 season. This past school soccer season I was honored with being the team captain and being offensive player of the year.
FGCDL FC: What is your best moment in soccer?
My best moment was when I was playing in a tournament and the night before a hurt my foot and not realizing that three of my toes were broken I played in my next game where I took a shot from 20 yards out scoring in the top right corner of the net and the goalie didn't even see it coming
FGCDL FC: What do you expect for the upcoming season?
I am extremely excited for this upcoming season, I believe the training will help me and my team improve tremendously, and I believe in our coaches to teach us and help us to be a very successful team.
Head Coach Vincent de Weger is euphoric with his new player: ''First of all, I want to say that we are very happy to have Ashlee in our team. She is a player with a drive that you don't find every day. During the try-outs, we used her in different positions and her adaptability to this was impressive. Combine this with her defense skills and we have a player that can surprise this coming summer''.