Cape Coral, January 2nd- First of all, we hope that every one of you had a great end of 2017. It was a year with great moments for our club and we are ready for 2018. A perfect moment to look forward with our Director of Soccer Operations Vincent de Weger.
Youth Academy
FGCDL FC: What are you expectations for the Spring season 2018?
Vincent de Weger: As always we want to improve our players with the right coaching. We have 2 Dutch UEFA Licensed Coaches and 6 USSF Licensed coaches this Spring and they are ready to make our players better. Besides that, we want to better then the Fall season if we look to the tournaments. We got a lot of 2nd places and a few 1st places, but we want to turn that around to more 1st places then 2nd places.
FGCDL FC: Are Fitness Coach Tina and Team Physical Therapist Matthew also there this Spring Season?
Vincent de Weger; Yes, they are. Fitness Coach Tina will be there 2 Thursdays in the month and Matthew most of the time from 7-9 pm on Monday, Tuesday and Thursday.
FGCDL FC: Are we playing this year the Florida Cup of US Club Soccer?
Vincent de Weger: Yes, the U12G, U14B, U14G and U16G are playing the Florida Cup this year. It is a similar tournament as the State cup but then hosted by US Club Soccer. We registered already and are waiting for the schedule.
FGCDL FC: What are the events for the Youth Academy this Spring?
Vincent de Weger: We have a bowling event, a Spring Break camp and our big Youth Academy Gala, May 5th. All 3 events were there last year and were extremely successful.
FGCDL FC: When are the try-outs for the Youth Academy?
Vincent de Weger: Everybody is welcome to try-out with their age group on January 16th, 18th, 22nd, 23rd and 25th and show us what they got.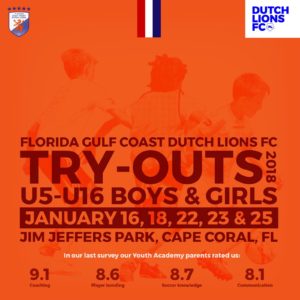 Women's Team
FGCDL FC: Is the Women's Team coming back?
Vincent de Weger: Yes. I will be the Head Coach again. Davy Hendriks will be the assistant coach and Tina Kaiser the Fitness Coach in May. The season will start a week earlier this year (May 26th) and we will be ready as a team then.
FGCDL FC: Are players like Monique Elliot and Casey Winn from last year coming back?
Vincent de Weger: As everybody knows, when you are a member of the Orange Family, you will always be a member. We are working hard to get our key players from last year back and of course, we are talking with Monique and Casey and many more.
FGCDL FC: Are there any Dutch girls coming this summer?
Vincent de Weger: Yes, we will have Dutch players in our squad. One player is already a done deal, but we will announce that the coming weeks.
FGCDL FC: Is it true that Florida Gulf Coast Dutch Lions FC Women's Team holds the record "Most spectators at a home game in Sunshine Division"?
Vincent de Weger: Yes that is true. During our home opener of June 3rd, we had 585 spectators in the stands and that is a new record. We are really excited about that, but we think we can go over the 700 this coming season.