Cape Coral, January 15th- Florida Gulf Coast Dutch Lions FC is happy to announce that we will have a Lion Cubs soccer program this Spring for 2018. This program is for kids that want to start playing soccer at the age of 3 years old. Under guidance from our licensed coaches, your child will make his first steps in the soccer world.
Soccer is a sport for everybody and is possible for any age. Kicking a ball, starting to dribble, and starting to love the game is possible at the age of 3.  Practice starts February 6th. We will practice 10 times on a Tuesday from 6pm till 7pm at Jim Jeffers Park.
The other dates are February 13, February 20th, February 27th, March 6th, March 13th, March 27th, April 3rd, April 10, April 17th and April 24th.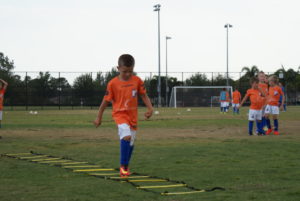 The cost for our Lions Cub program is $100, excluding your size 3 ball that you have to bring by yourself. At the end of the program, your child will receive a certificate of completion the program. You have to pay before the first practice, to join the program. There is no refund if you stop during the program.
Registration is possible until February 5th in the registration for below. We as Orange Family are looking forward to seeing you February 6th.