Cape Coral January 25th- Florida Gulf Coast Dutch Lions FC stands for loyalty and their Orange Family. Therefor we are happy to announce that our Women's Team player Monique Elliot is one of the Lion Cubs coaches.
FGCDL FC: Who are you, where are you from and how old are you?
My name is Monique Elliott, I'm from Cape Coral Fl and I'm 23 years old.
FGCDL FC: Where did you play the last 8 years?
I played all four years of High School for Ida Baker Bulldogs. After that I played college ball at Eckerd College, where I became MVP in my senior year. Last summer I was the starting right defender for Florida Gulf Coast Dutch Lions FC Women's Team. In December I went one week to The Netherlands on a trial with partner club ADO Den Haag Ladies.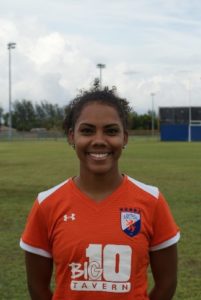 FGCDL FC: What kind of honors did you receive in your player career?
I've received 1st team all-conference, 1st team all-region, and All state player multiple times. I've received the Rotary South Scholar Athlete Runner Up Award. I was the all time leading scorer at Ida Baker with 102 goals. I'm a state champion.
I've received MVP my freshman year of college.  At the end of my junior year I had played 1319 minutes, the most played among non-keepers, and by the end of my senior year I had played 1571 minutes.
FGCDL FC: What are your expectations of being a Lion Cubs coach?
My expectations for being a Lions Cub coach are to teach the important of having fun and to lay down the ground works of player development.
We wish Monique Elliot the best of luck with the Lion Cubs. If you want to register your child (3/4 year old) for the Lion Cubs program, click here.