Cape Coral, January 30, 2018 -  FGCDL FC is thrilled to announce Yvonne Ploeg as the first player of the 2018 FGCDL FC Women's Team.
Yvonne is originally from the Netherlands, but also played in the USA for Georgia State University while receiving multiple NCAA and NAIA honors. FGCDL FC had an interview with Yvonne.
FGCDL FC: Who are you and where are you from?
My name is Yvonne Ploeg, I am 22 years old and I am from the Netherlands. I came to the United States to play college soccer 2.5 years ago.
FGCDL FC: What college do you attend?
I am currently a junior at Lindsey Wilson College in Columbia, Kentucky. Last year, I studied at Georgia State University in Atlanta.  I graduated in Marketing and Communication at Johan Cruyff College in Groningen, this is a college created for students who are great athletes.
FGCDL FC: What are you former clubs?
I started my soccer career at FC Grootegast and SC Cambuur. When I was sixteen, I went to play with SC Heerenveen Women's Team in the Premier League in the Netherlands. When I was 20 years old, I went to play college soccer in the United States where I started my college career at Lindsey Wilson College (NAIA) and then transferred to Georgia State University (Division 1)
FGCDL FC: What kind of honors did you receive in your soccer career so far?
Two times All-American
Two times First Team Mid-South Conference
Best Offensive Player National Championship (NAIA)
First team National Championship (NAIA)
Mid-South Conference Freshmen of the year
Best Female Newcomer Lindsey Wilson College
5 times Mid-South Conference Player of the Week
2 times National Player of the Week
Runner up National Championship (NAIA)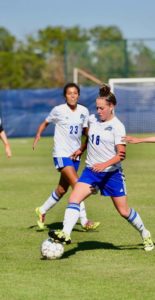 FGCDL FC: What has been you best moment in soccer?
I have had several great moments in soccer. I made my debut in Dutch soccer when I was sixteen years old at SC Heerenveen.  In my first year playing soccer in the United States we reached the final of the NAIA championship. Also, I received All-American honors twice and I became Offensive Player of the National Championship. I'm proud to have been recognized with such awards but I couldn't have done it without my great teammates and coaches.
FGCDL FC: What are your expectations for the upcoming season?
I am looking forward to play for Florida Gulf Coast Dutch Lions FC. I am very excited and have a good feeling about the upcoming season.  It will be a great experience to be part of a team with more Dutch players here in the United States.
Head Coach Vincent de Weger about Yvonne Ploeg: "Yvonne has been an impact player in the first years of her college career. The fact that she won so many prizes in her 1st year, shows the quality not only to adapt to a new environment but also excel. This is exactly what we look for in our players for 2018. Great qualities, great character and the ability to perform. I look forward to see Yvonne play in front of our Orange Family."
Do you want to play with Yvonne? Register now for our try-outs by clicking here.