Cape Coral, December 7th - Florida Gulf Coast Dutch Lions FC announces Spring Season try-outs on January 16, 18, 22, 23 and 25 at Jim Jeffers Park. The try-outs will be during our regular practice sessions. This because of the fact that your child immediately sees there teammates and coach.
The FGCDL FC Youth Academy had a successful fall season with further growth in the Youth Academy. We grew to more than 120 kids. This means that there are now 4 U8 teams, U10Coed, U11 Boys, U12 Girls, U14 Boys, U14 Girls and U16 Girls. All these teams won together 12 trophies in the last 4 months. We play our tournaments locally in Fort Myers and Cape Coral but also travel tournaments in Naples, Winter Haven, Orlando and Lakewood Ranch.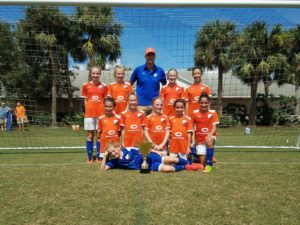 Because of our professional licensed coaches, the improvement and development of the players are visible. With Coach Vincent and Davy, we have two UEFA Licensed coaches. John, Sarah, Hannah, Ireland, Ivan, and Ireland are USSF licensed coaches. All the coaches coach according to the Dutch Lions FC philosophy. Positive, strict, every exercise with the ball and with a lot of fun in the practice.
Besides that our Youth Academy has a Fitness Coach (Coach Tina from Fit+ Fun) and a Team physical Trainer (Matthew Harkness from Allied Physical Therapy).  We create a pleasant environment to grow as a player and team.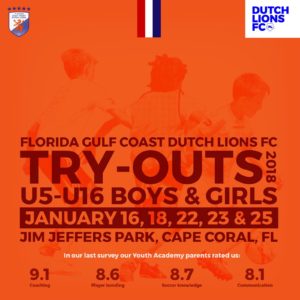 To keep the growth going and to get better as a club, FGCDL FC organizes their Youth Academy Spring try-out Tuesday, January 16th, 2017. It is at Jim Jeffers Park.
During try-out players can expect to be evaluated mainly on their technical skills. Several stations will be set up for dribbling, passing, and small sided games. Parents can expect to receive more information about the club and our philosophy. We will also provide the 2017-2018 FGCDL FC Academy Handbook.
Ready to join our Youth Academy? Register in the form below this and we will see you January 16th.