Cape Coral, October 30th- Our Youth Academy played this weekend in two tournaments. U11B and U12G in Naples and U8, U10Coed, U14G, and U16G in Fort Myers. A weekend with 1st places, but also some disappointments.
U8 Team 1, championship after three wins.
The 1st game of U8 Team 1 was very good. In the 4vs4 game, the field is small so they needed to spread out and pass a lot. Everyone in our team scored in the 1st game, but the second game was more difficult with a close score. They reached the final and played in the late afternoon against Florida Fire. The beginning of the game was close but our team s passed the ball more and scored some very good goals. Overall we finished 1st of the 6 teams. Our players showed everybody that they can dribble and shoot on the goal. Actually what we practiced the last weeks on practice.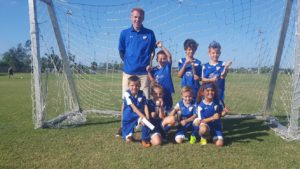 U8 Team 2, 4th place after one win and two losses.
U8 team 2 was in the beginning of the 1st game very close to score a lot of goals, but unfortunately, they couldn't find the back of the net. The 2nd game was better with more focus and more goals for the team. They played for the 3rd and 4th places ,but lost in the end only by one goal. Very good tournament of the players and a lot of improvement! Also these players worked on the basic skills the last weeks at practice and the showed that this weekend. The slide tackle of Santiago and Tony where they saved a goal, was the highlight of their weekend.
U10Coed, championship after two wins and one tie.
The U10Coed started off the tournament with a good effort from the whole team to get a 3-1 victory. The 2nd game was a very close game with the offense being led by Trey who scored three goals. This game ended in a 3-3 tie after giving up a goal in the last second off a penalty kick.
Our Lions team need a win in the last game to become champions of the tournament and they did that with a 5-2 victory. The team showed how much they have improved as players and an as a team in this tournament.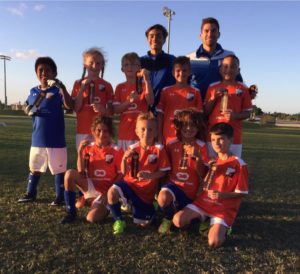 U11B, 3rd place after two wins and one loss.
Our U11 boys had a great start of their tournament in Naples. We played the 1st game against Florida Fire and won this game (3-1) with a good possession game and great teamwork. We were building up from behind and had some great attacks. Mackenzy scored a hattrick and Sem gave two assists! The second game against Marco Island was a thriller. Last week at another tournament we lost 4-1 from them, but we all agreed that we won't let this happen again. We didn't start well because they scored in the second minute of the game out of a corner. Eight minutes later Mackenzy made 1-1 after a long pass from our goalkeeper Mason. Just like last week we were the better team and had a couple of good chances, without result. In the second half, Marco Island took the lead again after a free kick. Two minutes after this Mackenzy scored the 2-2 after a very good pass from Teagan. We kept giving pressure and this resulted in the 3-2 five minutes before the end of the game. Mackenzy scored again and made his second hattrick of the day after a pass from Sem.
After the first day of our tournament, it looked very good with one more bracket game to go. This last bracket game on Sunday morning was against Florida Fire Lions and was another close game. Unfortunately, we lost 2-3 in the last minutes of the game because we let the opponent score too easy on us. During the game, Sem scored the 1-1 after a pass from guest player Isaac and Coco scored 2-1 with a fantastic free kick. We are getting better step by step and most of the time we perform very well. Keep developing guys!
U12G, 4th place after one win and two losses.
The U12 girls had a tough bracket in Naples because they had to compete against Elite and two teams of Florida Fire. Their first game was against the "A" team from Florida Fire and during the game, we saw that they were a little better than us. We worked hard, tried to play our own game what resulted in some good chances. Unfortunately, we were unlucky with finishing the ball, so the end result was a 3-0 loss. We learned a lot from this game and will work on the points that we can improve, so we will give a better performance the next time we face them. Our second game was already better than the first one, this time we faced the Florida Fire "B" team. We played this team a couple times already and it is always a close game, just like this one was. Coach Davy made a couple of changes by putting some girls in different positions and with Marlee on top, it resulted in a 1-0 win! Marlee scored two minutes after halftime in the right bottom corner after a pass from Sophia. Elizabeth had a couple of very good saves and she kept a clean sheet together with our solid defense. It resulted in a great team performance. Unfortunately, the Sunday morning game against Elite was disappointing with a loss, so we couldn't play the final.
We worked hard this tournament and saw some improvement compared with last week, so we keep up the good work and will be better every week!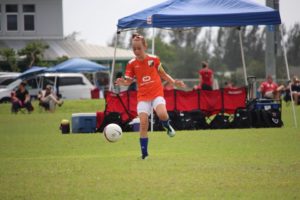 U14G, 2nd place after two wins and two losses.
The U14 Girls played early morning their 1st game and make some impressive goals. With good passing up the field, Arianna scored twice in the first game. The defense of the whole team was in this game from a high level. Pressuring the opponent and taking the ball on the right moment was enjoyable to see.
In the other games, there were some ups and downs but they reached the final after a 5-0 win over Scorpions in the semi-final. With some good safes of our goalkeeper Madilyn and a good goal by Gabriela, we had some changes to win this game. But playing against a team two years older is difficult. Our girls played well and learned a lot from playing up. Hopefully, Neavaeh can play soon again after her injury. Their Next tournament is December 2nd and 3rd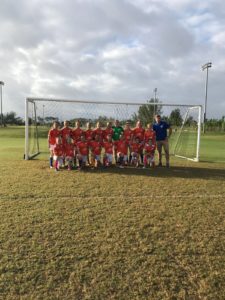 U16G, championship after three wins.
Our U16G started Saturday morning with a game against Scorpions from San Carlos Park. With great defensive work and amazing passes the girls led by half-time with 6-0. In the second half, the girls decided to increase their speed of playing and won the game with 15-0. A new record for our U16G. The second game was a good game where our goalkeeper Olivia got a clean sheet again and the girls advanced to the final with a 4-0 win.
In the final, our U14G was the opponent. With a goal by Katrina, the U16G took a lead. But because of some miscommunication in the whole team, our U14G came back by a goal of Gabriela. The U16G increased their level of play again and in no-time, it was 4-1. The second half just started and we made 5-1 by Shelby. The rest of the game was for our U16G and they showed their skills in several moments. The end result was 6-1. A championship with great soccer. Coach Vincent and Sarah were happy about their performances and look forward to the coming weeks.