Cape Coral, October 24th- Florida Gulf Coast Dutch Lions FC played this weekend with four teams the Fort Myers Kick-Off Classic. With one championship, two third places, and one-fourth place. But the coaches were in general happy because they saw the improvement of our players or we know where to work on. Below you find the weekend summaries of our U11B, U12G, U14B, and U14G.
U11B- Two wins and 1 loss. Third place
Our U11B played another good tournament, this time with a 3rd place in a strong tournament. The first game against Lee County Strikers ended up in a 7-0 win with very good passing and position game. The best goal we scored in this game came from Mackenzy after a great cross from Colton.
The second game was a little harder because we played against a team from Marco Island. Unfortunately, we lost this game with 4-1 while we didn't play bad at all. We were the better team during this game, because of the amazing goalkeeper from the other team and some personal mistakes from our side they won that game. At Sunday morning we had the chance to reach the final by winning our game, but we needed some good results from other teams. We did our job because we won our game with 5-1 from Elite by goals from Coco, Julian, Mackenzy, and Mason. Unfortunately, we didn't reach it to the finals because of the results from the other teams but we can look back at another good tournament where we played some solid soccer again.
U12G- One tie and two losses. Fourth place
The U12G had a rough weekend because we couldn't use our goalkeeper Elizabeth and back up goalie Brooke. First of all, we have to say that the field players that were in goalkeeper this weekend did a great job, especially because they never were goalkeeper before!!! In our first game we played against Florida Fire and this was a very close and exciting game. We had some good chances but our shots were not good enough to score a goal this game, while we played some good soccer. Unfortunately, our opponent had one good shot that our goalkeeper for this game Mallie couldn't safe. We tried to force the equalizer but we didn't have any luck, while Florida Fire scored the 2-0 in the last minute of this game.
Our second game was a hard one against a strong team from Cyclones. It looked like we were a little amazed by them in the beginning, what resulted in a 2-0 score for them after 7 minutes. After these minutes our girls started to play as well and tried to build up from the back with movement and passing. Next, to that, we tried to dribble the ball into open space and were using our skills when we had to. The girls gave all they had this game and had a couple of chances but couldn't finish it. Unfortunately, the referee decided to give them a penalty kick while everybody could see that Marlee cleared the ball, what resulted in the end score 3-0. We have to give credits to the whole team for this game and we know that we can compete against strong teams like Cyclones.
Our last game was against Lee County Strikers and ended up in 0-0. Lessons we learned after this tournament are that we have to take shots on goal if we want to score (like the last tournament) and that we have to give pressure so the opponent can't score.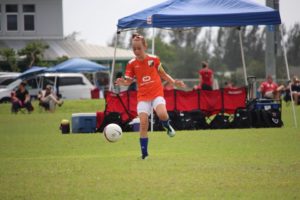 U14B- one tie and two losses. Third place
The U14B had a tough weekend. The had more downs than ups, but the coaches know were to work on. The first game on Saturday was a really good one. The defense was pushing up really far and the 1-1 tie was a good result. They fought for every ball and did some great passes and moves when they had the ball. The second game was one the forget really quick. Everything that they did good in the first game, didn't they do in the second game. Consistency is a problem and the boys have to work on this the coming week. The U14B was not awake during their Sunday morning game against Labelle at lost with big numbers (6-0). They can learn a good lesson about this game because you can't get a result without effort and teamwork.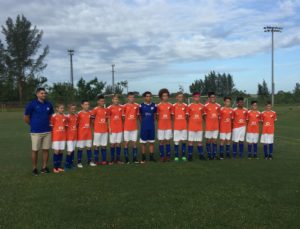 U14G- Three wins. Champions.
Coming to this tournament meant facing two teams that we played the last couple of months. We lost and tied against them, but we didn't win against them the last games. With a good system of passing, moving and dribbling the girls were dominating every game. During the first game the girls figured out that if they win their first two games that they didn't have to play a semi-final. After at 2-0 and a 5-1 victory the girls reached the final for the first time this season without playing a semi-final.
Sunday 2.45 pm it was time for the final. A dominating game again by our girls led to several chances. The goalkeeper of the opponent did her work good, but on a shot from Gabriela from 12 yards she had no answer. This goal was also the end result and with three victories the girls won the Fort Myers Kick-Off Classic U14 Girls Bracket. Well done girls.