Cape Coral, July 27th- Florida Gulf Coast Dutch Lions FC is happy to announce that we will start our Lions Cubs soccer program. This program is for kids that want to start playing soccer at the age of 3 years old. Under guidance of our Female Coach Kim Rogers you will practice once a week for an hour.
Soccer is an sport for everybody and is possible for any age. Kicking a ball, starting to dribble, and starting to love the game is possible at the age of 3. Coach Kim has her Master Degree in Mental Health Counselling, Bachelor in Psychology and coaches multiple Recreational and competitive teams in Cape Coral. Director of Soccer Operations Vincent de Weger (UEFA C Licensed) will be supervising her during the practices.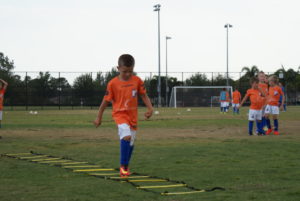 Practice start August 15th and end October 31. We will practice at Ida Baker Soccer Fields, located at 3500 Agualinda Boulevard. We practice on Tuesday's. We start at 6.15 pm and finish at 7.15 pm.
The cost for our Lions Cub program is $75, excluding your size 3 ball that you have to bring by yourself.
Registration is possible till August 14th in the registration for below. Coach Kim and Director of Soccer Operations are looking forward to see you August 15th.