Cape Coral, July 2, 2017 – Florida Gulf Coast Dutch Lions FC Women's Team (2-1-3)  lost their 6th game of the season with 1-0 away vs Tampa Bay United.
Florida Gulf Coast Dutch Lions FC started their game with energy and depth on the sides and a solid defense. This led to great opportunities for Marissa Stovring and Gabriella Morales. Unfortunately, Gabriella couldn't touch the cross and the ball just missed the goal two yards out. In the 13th minute, our defense didn't clear the ball good enough, the striker of Tampa got the ball and scored the 1-0. After their goal, our girls sticked to their passing game and high pressure resulting in a good first half to watch, but our girls weren't able to score.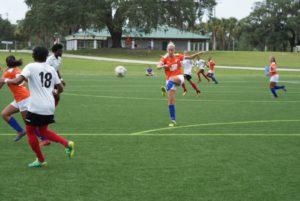 In the second half our girls played more on the half of Tampa, resulting in some shots on goal from Ashlee Pendarvis, Monique Elliot and Sarah Feakins but not good enough to beat Tampa Bay United's goalkeeper.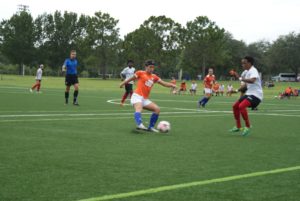 Head Coach Vincent de Weger: "Last week we lost in a way that we as coaches didn't like. Today we saw the opposite of that. We saw a desire to win and most important: we saw teamwork. From the girls who started to the girls who didn't play, everybody coached and worked hard to beat the Champion of our Division. With three days of rest coming up and this game in the back of our heads, I think we are ready for Florida Sol. Besides that, we want to congratulate Tampa Bay United for winning the Sunshine Division this year. Well done".
On Saturday July 15, the FGCDL FC Women's Team plays their last WPSL home game at Ida Baker High School. The game is at 5 PM vs Orlando Kicks. Makes ure you don't miss the last opportunity to see the 2017 Lions in action.