Cape Coral, July 10, 2017 – Florida Gulf Coast Dutch Lions FC Women's Team (2-2-4)  had a long weekend with 2 away games in Jacksonville and St. Petersburg. With 1 tie and 1 loss, the girls gained more experience.
Our girls played on Friday night in Jacksonville against Florida Sol. They are always a good team in the league and we saw that in the first ten minutes. Where we heard the lighting alarm and stopped playing, the opponent kept going and scored the 1-0. The referee called a goal and we went in the locker room to hide for the lighting. A strange start of the game. After the break our girls played better, stronger and more physical but it wasn't enough to hold off Florida Sol to make 2-0. In the second half the coaches made a lot of changes and especially Keely Cecil and Ashlee Pendarvis played a great second half. Unfortunalty we lost the game with 3-0.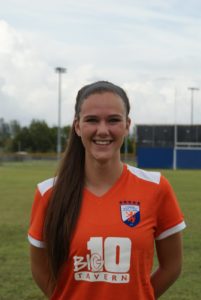 After the night in the hotel, a drive back to Cape Coral and a night sleep at home we played on Sunday vs Pinellas. A team that suprised the night before with a win over Boca Raton (number 2 of the league). Our Women's Team started off with a great passing and moving game. The opponent didn't succeed in stopping us and after 10 minutes Kristina Trujic scored the 1-0 with a great shot in the upper left corner after a great cross of Monique Elliot. Our girls kept doing what they do best: pass and move with and without the ball and we made quickly 2-0. Kristina Trujic made the goal after a great pass of Marianna Scine. The defense in the first half did a great job together with the midfield to get the ball back when we lost it and delivered great passes into the final third.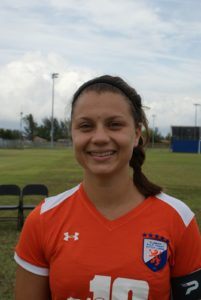 The second half was a difficult one for our girls. It became warmer and more humid and Pinellas started playing like they did on Saturday. Quick after half time they scored 2-1. Florida Gulf Coast Dutch Lions FC started playing again and created chances but the crossbar or the goalkeeper didn't let us score. If you don't score, the other team will and that happend after 83 minutes. A great breakout of Pinellas and a mistake by our girls led to a 2-2.
Head Coach Vincent de Weger: "This was a weekend with up ands downs. We played some great soccer, but we also made some mistakes. With our average age isn't that a big deal, we just have to learn from it to become a better player and team. The first half on Sunday was a example of what we can. We have to try to do this the whole game coming Saturday, when we play our last game of the season."
On Saturday July 15, the FGCDL FC Women's Team plays their last WPSL home game at Ida Baker High School. The game is at 5 PM vs Orlando Kicks. Makes ure you don't miss the last opportunity to see the 2017 Lions in action.