Cape Coral, June 11 2017 – The Florida Gulf Coast Dutch Lions FC Women's team (2-0-0) won their second game in the WPSL vs Treasure Coast Dynamites (1-1-0) in front of almost 300 fans. Two goals were scored by Dutch player Michelle Vrieling, the other goal was scored by captain Kristina Trujic.
Florida Gulf Coast Dutch Lions FC started the game how they ended their last game: a lot of pressure and good positioning.  After already four minutes this resulted in a 1-0 lead for the Lions when the goalkeeper of Treasure Coast passed the ball in the feet of Michelle Vrieling. Michelle, a player from FGCDL FC's partner ADO Den Haag in the Dutch Premier League, saw that the goalkeeper was too far in front of her goal and chipped it over the goalkeeper from 30 yards out. It was the start of a great evening.  The whole first half the Lions continued to put pressure on the opponents and displayed good passing and positioning resulting in a few chances but unfortunately the Lions came up short in finishing keeping the score 1-0 at halftime instead of a more comfortable lead.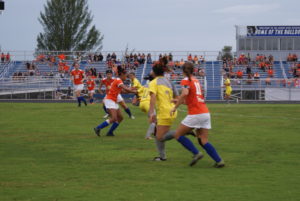 The second half was just on its way when Kristina Trujic took a free-kick in the 48th minute from the left side of the goal. It was an amazing free-kick from 25 yards out that went straight into goal: 2-0. The Lions were on fire and with the support of the fans, who were singing and dancing in the stands, they created several more chances by Kristina Trujic, Karleigh Acosta and Gabriela Morales, but the Lions simply could not score. Until the 89th minute, when Michelle Vrieling picked up her second goal of the night with a clean shot in the far corner: 3-0.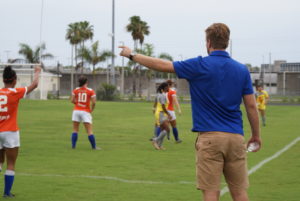 Head Coach Vincent de Weger was very satisfied with the victory: "When I compare it with last game, we played much better. Better positioning, better pressure and good passing resulting in some great attacks. The only thing I can look to improve in is the finishing. This upcoming weekend we have two important games. First, we play away in Boca Raton and after that we play our third game at home vs Florida Krush. If we keep playing and improving like the few last weeks, it can become a great season."
Saturday June 17 the FGCDL FC Women's Team plays their next WPSL game away vs Boca Blast at 6PM at FAU. The next home game is Sunday June 18 at home at 5pm Ida Baker High School in a special "Fathers Day Game". Entrance for all fathers is free and for everyone else tickets are $5.00.