The Florida Gulf Coast Dutch Lions FC Women's team (1-0-0) won their WPSL home opener vs DME WFC (0-1-0) in their inaugural season in front of almost 600 fans. Both goals were scored in the last minutes of the game by Gabriela Morales and Kristina Trujic.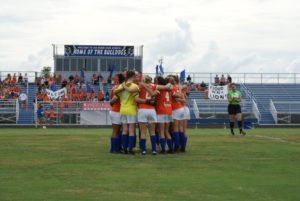 FGCDL FC started the game a little nervous. The team tried to build up from the back using the fullbacks but due to the high pressure of DME WFC it was sometimes difficult to keep possession. Despite some good passing and positioning in the first half the team struggled with the final pass or the control of the forwards was simply not good enough resulting in only one chance when Kristina Trujic went one on one with DME WFC's goalie, but her shot was saved.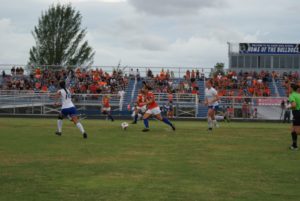 In the second half, the Lions tried to create some more chances but it was DME WFC that got on the scoreboard first in the 59th minute, when a cross was served in and finished by Heather Nulty: 0-1. With the support of their fans the Lions started to play better, using their wingers more efficiently resulting in more shots on goal but no equalizer yet. That changed in the 81st minute, when Franny Farella received the ball in the midfield. She played a perfect through ball to Gabriela Morales, who controlled it twice and then shot the ball under the goalie to tie the game up: 1-1. The Lions kept pushing for the win. In the 86th minute the hard work paid off when the ball was served in the box from the side, and after an initial clearing by a player from DME WFC on the goal line, the ball ended up in front of Kristina Trujic, who put the ball in the back of the net for a 2-1 lead. The Lions held on to the lead in the final minutes of the game and recorded their first ever WPSL win.
Head Coach Vincent de Weger was very pleased with the victory: "It wasn't always the type of soccer we want to play as a team and club, but it was also our first game in front of a very good fanbase. The main thing is that we never gave up, which in the end paid off. After the 0-1 we started playing better and showed that our team has a lot of character. I am very happy with the 2-1 win and looking forward to our next game again this coming Saturday."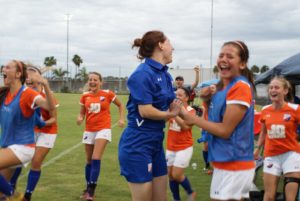 Saturday June 10 the FGCDL FC Women's team plays their next WPSL game at home again vs Treasure Coast Dynamites at 7PM at Ida Baker High School. The entrance to the game is for free.