Cape Coral, June 26, 2017 – Florida Gulf Coast Dutch Lions FC Women's Team (2-1-2)  lost their 5th game of the season with 3-2. At half time Florida Gulf Coast Dutch Lions FC was leading with 2-0, but we couldn't manage the switch that FC Surge made in the second half.
Florida Gulf Coast Dutch Lions FC started their third home game with fire, passion and great passing. The Lions did exactly what they worked on for so long and scored a great goal by Franny Farella after a great build up. After 15 minutes FC Surge was getting a little bit stronger, but couldn't score because of our great defense. After 34 minutes, Marissa Stovring got the ball on midfield, made her move inside and sent Gabriella Morales towards the goal. She didn't failed and scored the 2-0. Already her third goal of the season.
The rest of the first half the Lions were the better team and deserved the 2-0 lead by half time.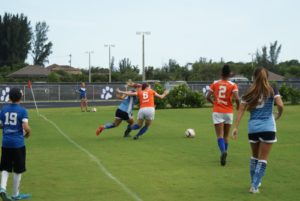 The second half was the complete opposite of the first half. No pressure, no real communication and most important of all: no real desire and dedication to win the ball and the game. FC Surge scored after a great corner the 2-1 in the 51st minute. The Lions were still leading and switched to a 1-4-4-2, because of the pressure of FC Surge.
Our girls played a little bit better and got some breakaways, but after the 2-2 of FC Surge out of a free kick the game was for FC Surge. They wanted it more, they played better and got the 3-2 in the 83th minute. The Lady Lions tried everything with bringing in subs and switching to 1-3-4-3 but it didn't succeed. They lost the game with 3-2.
Head Coach Vincent de Weger: "This was a strange game for us. We played our best first half of the season and we had a comfortable lead at half time. What happened in the second half is impossible and can't happen to us. We give up when they opponent surprised us and we stopped moving forward and play that passing game that we did the first half. I hope that this is a lesson for the girls that we need to work harder, even when we are leading with 2-0".
Saturday, July 15th the FGCDL FC Women's Team plays their last WPSL home game at Ida Baker High School, at 5 PM vs Orlando Kicks