June 25th, Cape Coral- Our seven 3v3 team0s showed their development on Saturday, June 24th after they all been qualified for Nationals in Orlando. More wins, better plays and more dedication to win their games. A good Saturday with these results.
U8 of Coach Jorge
Our U8 started their Saturday with a 12-0 win over American Eagles. This gave our youngster the confidence to beat Marco Island with 9-2. A start where the boys only could dream off. After two tough losses, the boys reached the semi-final. Plant City was the opponent and you saw that they had more energy and experience. A game for 3rd place was the result. A thrilling game followed at the end of the day with Thierry Schreyer making 2 goals in 3 minutes, but unfortunately, it wasn't enough and the boys lost with 4-3. 4th place out of the 8 teams was the result of a great Saturday for our U8.
U10B of Coach Menno
After an amazing first tournament, the U10 Boys got a little more of a challenge during the tournament in Naples. With two close and high scoring games, the boys were able to keep the scores in each game pretty close. Unfortunately, they didn't make it to the finals today, but they will come back strong next tournament!
U11B of Coach Menno
It was a tough day for our U11 Boys team. While they got some lucky goals, they still worked hard and created some good opportunities to score. During their last game, they showed how hard they can work. They will continue to improve for the next tournament.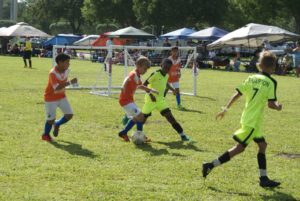 U11G of Coach Menno
The U11 Girls started this tournament as their first game ever playing together. During the first two games, they were able to learn how to play and trust one another. In the beginning of the third game, they were making good combinations and score out of those amazing attacks. With a lot of experience and new things to learn they will play July 8th in the next tournament.
U12G of Coach Davy
The U12G showed the big progression they made last weeks during their second tournament. They scored a few very good goals and worked very hard. Unfortunately, they came one win short for the semi-finals, so we look forward to their next tournament.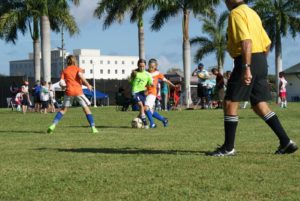 U13G of Coach Davy
Our U13G had a very though tournament with two games against U14G teams. They showed how to play good soccer but needed just like the U12G one more win for the semi-finals. They received a lot of compliments from other teams by the way they played.
U16G of Coach Davy
The U16G had to work very hard to get a result this tournament. In their bracket they had to play against U18G teams, so they could show all their skills. With a few very close games and a big victory on the last game against a U18G competitive team, they reached the 3rd place this tournament.