Cape Coral, May 12 - Florida Gulf Coast Dutch Lions FC Youth Academy organized their end of the year player Evaluation.
All the players of the Academy are coming by the office to talk about their development and to see if the goals they set at their previous evaluation are full filled.
The players are evaluated at their technical skills, tactical skills and at their behavior at the practice and games. At the evaluation the coach asks 2 important questions:
Did you learn something?
Did you have fun?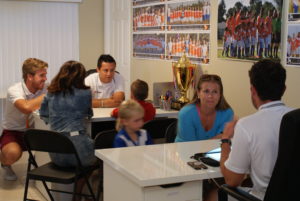 With these questions the coach gives every player advise on the points he or she has to work on for upcoming season.
The player evaluations are an extra step in the development of every player to become a better player and person in and around the fields.
FGCDL FC organizes tryouts at 13, 15 and 22 of May for their Youth Academy. Want to become part of it and get also a development plan? Sign up now at our website.