Cape Coral, May 12th- Florida Gulf Coast Dutch Lions FC is happy to announce Tori Thompson as their newest member of our Women's Team. We had an interview with her and Head Coach Vincent de Weger.
FGCDL FC: Who are you, where are you from and how old are you?
I am Tori Thompson, I am from Ohio and I am 16 years old.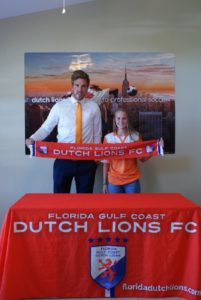 FGCDL FC: For which high school do you play?
I am currently a sophomore at Port Charlotte High.
FGCDL FC: What is your college?
I am talking with several colleges and will make the decision hopefully the coming year.
FGCDL FC: What are your former clubs?
I played for Charlotte Premier before I am moved to GPS.
FGCDL FC: What kind of honors did you receive in your player career?
I was nominated for Athlete of the Week, and I am forward of the year.
FGCDL FC: What was your best moment in soccer?
My freshman year of high school is played for our JV. When the coach asked me to play for the Varsity I was super excited. Shortly after that game started I scored my first goal as a varsity player.
FGCDL FC: What are your expectations for this Women's Team season?
I want to grow as a person and as a soccer player. I am young and everything that I learn this summer will help me in my further career.
Head Coach Vincent de Weger is happy to have Tori in his team: "She is a young player with different skills. She is speed, 1v1 very dangerous and can score. She needs to learn a lot, but she is young and we have older players to help her with that. I wish her all the luck this year."