Cape Coral, May 3rd- Florida Gulf Coast Dutch Lions FC is proud to announce that Kristina Trujic, WPSL All-Star 2016, will be playing for our Women's team this summer. We had an interview with her and Head Coach Vincent de Weger.
FGCDL FC: Who are you?
I'm Kristina Trujic and I grew up in New Jersey before moving to Venice, FL in 2008. I am 25 years old.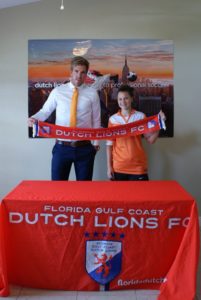 FGCDL FC: Where did you play during your high school and college?
I played at Pompton Lakes High School for two years as a freshman and sophomore until I moved and played for Venice High School for my last two years as a junior and senior. In 2009 I committed to the University of Central Florida in Orlando. I started as a true freshman in the fall of 2010 and ended as a senior in the fall of 2013.  After moving to Florida I played for Manatee Magic in my junior year. In my senior year, I played for FC Sarasota before committing to UCF. I played the last two seasons in the WPSL for Pinellas County United.
FGCDL FC: What kind of honors did you received during your career?
At PLHS I received First Team All-League in 2006-07, Second Team All-County 2006, First Team All-County 2007, All-State Soccer Award 2006-07. At VHS I received offensive MVP 2008/09, overall MVP 2009/10, Herald-Tribune Player of the Year 2010. At UCF I received UCFWS most improved player in 2010, CUSA All-Tournament Team 2012. The most recent honor I received was WPSL All-Star 2016 for Pinellas County United.
FGCDL FC: What is your best moment in your career?
The best moment in my soccer career was scoring my favorite goal of my career against the UNC Tar Heels in the Sweet16 round of the D1 NCAA tournament to help my team move onto the Elite8 of the NCAA tournament for the first time since 1987.
FGCDL FC: What are your expectations for this season?
I am looking forward to grow as a player while learning from a new coaching staff.
Head Coach Vincent de Weger is very happy with Kristina: " She is a player who has the capabilities to decide the game. She can make a goal, give a great cross and also pass that through ball to set somebody up. Combine this with her experience over the last 10 years and we will have a potential star in our team. I wish her all the luck this year!