Cape Coral, May 1th- Florida Gulf Coast Dutch Lions FC is happy to announce Kianna Magner as their newest player for our Women's team. We had an interview with her and Head Coach Vincent de Weger.
FGCDL FC: Who are you, where are you from and how old are you?
I am Kianna Magner, I am from North Fort Myers, FL and I am 18 years old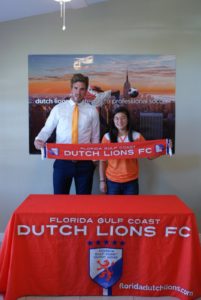 FGCDL FC: What was your high school?
Evangelical Christian School
FGCDL FC: What is your college and for which club did you played in your youth?
I play now college ball for Palm Beach Atlantic University (D2). Before that, I played for Florida Fire Juniors.
FGCDL FC: What kind of honors did you receive in your player career?
College: Nominated for Newcomer of the year.
High School: Rookie of the Year, Mighty in Spirit, Most Outstanding Defender, Most Outstanding Midfielder, All-Area Honorable Mention, and All-Area Second Team.
FGCDL FC: Best moment in soccer?
Going to Arkansas for Regionals with my club team.
FGCDL FC: Expectations for the upcoming season?
To continuously get better and improve my game for college; and for our team to play our best in every practice and game.
Head Coach Vincent de Weger is happy with Kianna Manger: "She is a player with experience in D2 college ball. The fact that she received Newcomer of the year tells us enough about her potential. During practices, she already showed her scoring possibilities and I am happy to have her on my team".