Cape Coral, May 30, 2017 -  Florida Gulf Coast Dutch Lions FC is very happy to announce that D1 player Marissa Stovring and former Ida Baker High School captain Franny Farella are joining the 2017 FGCDL FC Women's team. We had an interview with Franny, Marissa and Head Coach Vincent de Weger.
FGCDL FC: Where are you from and how old are you?
Franny: I am Franny Farella, 21 years old and I am from Cape Coral.
Marissa: I am Marissa Stovring, 21 years old and I am From Naples.
FGCDL FC: What is the last school that you attended?
Franny: I finished Ida Baker High School before I played in college for Delaware State University.
Marissa: I go to Milwaukee University, we play in the NCAA Division 1.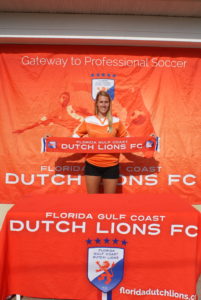 FGCDL FC: What honors did you receive during your career?
Franny: We won our independent conference in 2014/2015. I was named an All County and State player in 2014. I also won the State Championship in High School 2012.
Marissa: For UWM we were Regular Season Champions and Conference Tournament runner-up. In high school I scored 95 career goals and was the leading goal scorer in each of the three seasons. I had a career-high 33 goals as a junior and 30 goals as a freshman. I am a three-time All-Area and four-time All-Conference selection while helping Barron Collier to win two District Championships and had one regional final appearance.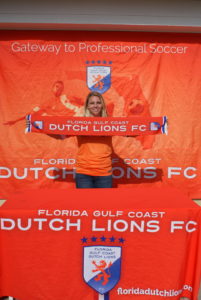 FGCDL FC: What are your expectations for the season?
Marissa and Franny together: We expect to win this coming Saturday to start the season well. After that, we play game by game and hope to win them all. As a player, we want to grow but also lead the younger girls. We have some experience and we want to use that to make the team better as a group. But at the end, we want to win.
Head Coach Vincent de Weger is really happy with both players: " These girls play at a high level. Marissa plays in the NCAA Big Ten Conference, the highest level of college soccer in the USA, and Franny brings leadership and quality to the field. I expect a lot from both girls on and off the pitch. The fact that we have two girls that bring something extra, will make it hard for me to decide on our starting eleven this weekend. "