Cape Coral, May 4rd- Florida Gulf Coast Dutch Lions FC is happy to announce that we signed D2 player Sarah Feakins from England for our Women's Team. We had an interview with her and Head Coach Vincent de Weger.
FGCDL FC: Who are you, where are you from and how old are you?
I'm Sarah Feakins, I grew up in Kent, England until the age of 11 where I then moved to Cape Coral, Florida.  I am 21 years old.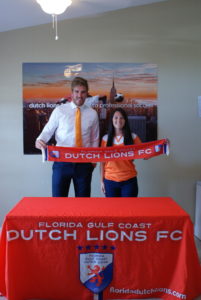 FGCDL FC: What were your high school and your college?
I attended Cape Coral High school for all four years.  I played at Hutchinson Community College in Kansas for 2 years on a soccer scholarship. I have yet to decide where I will be playing in the fall to complete my other two years but I have two offers in Pennsylvania on scholarship.
FGCDL FC: What kind of honors did you receive in your player career?
4-year varsity player, 2013-2014 Captain, Most Valuable player award in 2013, back to back USA league champions with Cyclones. Also won several big tournaments over the years of playing. Conference Champion in 2014 for Hutchinson College.
FGCDL FC: What is your best moment in soccer?
My best moment in my soccer career would be scoring a volley from a free kick in the last couple minutes of the game to make us champions of the Weston Cup tournament in 2014.
FGCDL FC: What are your expectations for the upcoming season?
My expectations for this upcoming season are to work hard and improve in every way possible. There is a lot of talent on this women's team and if we all work together and listen to the great coaches I believe we will succeed. It is an amazing opportunity to play for the FGCDL WPSL and I thank everyone who helped me to become the player I am today, I am ready for a great season.
Head Coach Vincent de Weger is happy to have Sarah on his team: " She is a player with experience in college soccer and high-level club soccer. At the midfield, it is useful to have a balance in defensive and attacking skills but also in experience. Sarah is a great asset to this team and we wish her the best this summer. "