Cape Coral, May 8th- Florida Gulf Coast Dutch Lions FC is happy to announce Aryana Saenz as the newest player for our Women's Team. We had an interview with her and Head Coach Vincent de Weger.
FGCDL FC: Who is Aryana?
I'm Aryana Saenz, 17 years old and I am from Cape Coral Florida.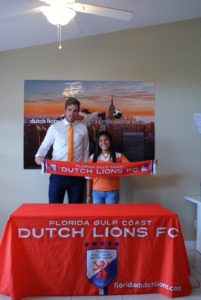 FGCDL FC: For which high school did you play soccer?
I play for Mariner High School.
FGCDL FC: What kind of honors did you receive during your player career?
Last season I got an Honorable mention of Lee County NewsPress.
I reached with my club soccer team the Final 4 of State Cup
Winning districts with Mariner High School.
FGCDL FC: What is your best moment in soccer so far?
That is for sure winning the district with Mariner High School. To play and practice for so short period and reach that kind of achievement was for me very special.
FGCDL FC: What are your expectations for this season?
My expectations are to have the best experience in joining excellent trainers and coaches. Play against the most competitive teams and grow as a player. I am very excited to play with great players in the area.
Head Coach Vincent de Weger is happy with Aryana Saenz: "She is a player with creativity and skillful moves. You have those players who don't have to look where their teammate is, but they just know it. That is Aryana. I am happy to have her and we will help her guide to become a better player.