Cape Coral, April 9th - Florida Gulf Coast Dutch Lions had an amazing 3v3 tournament where Wink news came out  to shoot their commercial.
All the players were excited to go to the 3v3 tournament at Ida Baker High school. This because Wink news came out to shoot the official commercial of FGCDL FC. All the players brought their trophies and medals they won and lined up in front of the sponsor flags.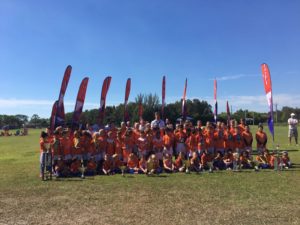 After the pictures and recording in front of the sponsor flags, General Manager Jouko Gorissen did some small interviews, the U13G showed their skills and Coco showed how to make the perfect slide tackle.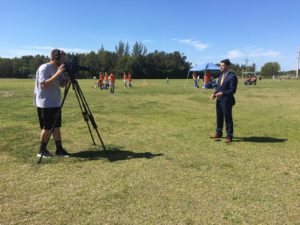 The Saturday at Ida Baker Highschool was not only about recording the commercial, the Youth Academy also had a lot of ball touches and fun at their 3v3.
The 1st 3v3 in April for the U8 was a day to remember for Matthias, Marly, Thierry and Jonah, because they won the 3v3 elite bracket. Tony, Bryson and Deanna were the best team in the U8 development bracket. Both sem-finals and finals were good games and the kids showed the development that they made. Especially on defending and 1v1 the players made a huge improvement and the coaches were very happy to see that.
With the older ages we decided to combine different age groups with each other for new experiences.
The U9, U10 and U11 played together and we saw some great team play from the teams. They tried to build up from behind and scored some amazing goals with good combinations. It was a though competition with a lot of close scores, which means that they tried really hard and gave their best effort.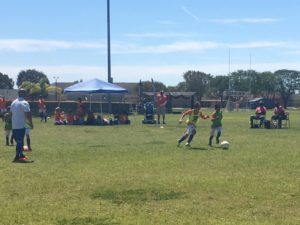 After these age groups we combined the U13 boys and girls with the U16 boys and girls. During this tournament we saw some very fast play were the players used their individual skills and moves. A lot of goals and again a really good effort. Besides they all had a lot of fun it's a good experience for them to learn from each other.
If you also want to become a part of the Orange Family and show your skills at the multiple tournaments, you can signup now for our 2017-2018 tryouts. Tryouts will be held the 13th, 15th and 22th of May.