Cape Coral, April 26th- Florida Gulf Coast Dutch Lions is proud to announce the possibility to support our club on special way. What is a semi-professional team without a fanbase? That is the reason that we need you this season to push our Women's team to the next level.
You can help our club with only $50,- per season. With the amount that we receive, we'll buy materials we need for our Youth Academy and Women's team so they can develop and give their best performances.
This summer our Women's team plays at the second-highest level in the country. The Orange Family will be at the home games to support and cheer for our girls as loud and crazy as they can. We also use a part of the amount to create a great ambiance during some soccer games. We will do this by buying orange smoke, banners, and flags. We follow by doing this the footsteps of FC Cincinnati. They have the biggest crowd in USL Pro and broke a lot of records over the season. As you know FC Cincinnati is 1 of the 6 Dutch Lions clubs that are a part of Dutch Lions Capital Group.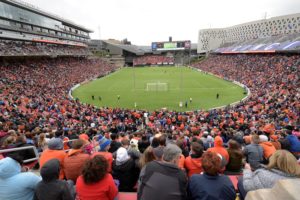 What do you get?
Your name on our website
Weekly Newsletter (e-mail)
Orange Family member shirt
Free entrance to every Women's team Home Game
Do you want to support Florida Gulf Coast Dutch FC? Sign up and become a part of our Orange Family.