Cape Coral, April 3rd - Florida Gulf Coast Dutch Lions had a great weekend with 1 champion, 2 final places, 1 3rd place and 1 4th place. If you see the improvement last months of all the teams, we are proud of these results.
FGCDL FC U9 - 2nd place with a great comeback
Our U9 played well the 1st game. Both teams had a lot of chances, and both goalies did great work. It was exciting till the last minute, but unfortunately, they had a draw. The 2nd game of our U9 was much better, and they won with 2-0 by goals of Sem and Luke. On Sunday they have to play the semi-final, but the start is not good, and by half time the score is 0-2 behind. Coach Menno talks with all his players and the second half they showed everybody what they could do. With great passing and perfect shooting, they made an incredible comeback. The final score of the semi-final was 3-2. Unfortunately, they couldn't win their last match, but we are proud at the performance of our U9.
FGCDL FC U10B - Champions of Naples Shootout
U10B played a fantastic tournament in Naples. They become first in their bracket with 3 wins (6-1, 5-2 & 7-1). It was incredible to watch the games of our U10B, they scored a lot of goals, and we saw many perfect combinations. Because of the great results in our bracket, they could play the final. This game was important for our U10B. From the beginning, all players were high focussed, on getting a good result this game. U10B played way better than the opponent and made some fantastic goals. The result of the final was 3-0, so they won the championship!
FGCDL FC U13B - 4th place after an exciting last game
The U13B were very unlucky this tournament and had the 4th place in their division. The 1st wasn't a big success for our U13B. They lost one game, and the 2nd game ended in 1-1. On Sunday they had to win their last game, but unfortunately, they lost the last game with 2-1, while a victory would bring them into the final.
FGCDL FC U13G - Finals for our U13G in U14 bracket
Our U13G had to play in a U14 bracket this tournament. We know before that means we have to play against older kids. If we see the development of our U13G the last months, we want to show everybody how good we are. In the first game, we scored one time, and we started with a draw. The 2nd game we played against a real U14. We saw the difference, but the girls worked very hard, and they lost with 2-0.
Sunday we had to face the same team as we did Saturday morning. With a perfect pass of Arianna and an excellent finish of Hannah, we won the game with 1-0, and that means we reached the finals.
In the finals, we worked hard, and we got some chances to score, but it was not enough to win the final.
FGCDL FC U16G - Lost with PK's in the semi-final
Our U16G played a good Saturday with great passes, good defense, and some good goals and they reached the Semi-Final of Sunday morning.
The Semi-Final was against Cyclones. A team that we faced before and lost. Our U16G were better, dominated the game and showed the spectators how to play proper soccer. Building up from the back and consistently searching for the open girl. We had some chances, but we didn't score but Cyclones neither. After a great over time with a huge chance for our girls, we had to go to penalties. We lost the PK shootout with 4-2, but they girls can be proud of themselves. The 3rd place in a good tournament.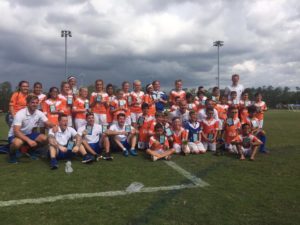 Of course, we wanted to thank all the parents, friends and family with their support last weekend. It is amazing to have you all as part of the Orange Family!