Cape Coral, April 4 2017 - Florida Gulf Coast Dutch Lions FC is excited to announce Gabriella Morales as the 5th player of the FGCDL FC Women's team. She is the first forward that has signed for the 2017 team competing in the WPSL. We had an interview with Gabriella Morales and Head Coach Vincent de Weger.
FGCDL FC: Who is Gabriella Morales?
My name is Gabriella Morales, I am 19 years old, and I am from Miami. I am a 2015 Ida S. Baker High School Alumni, currently enrolled at Florida South Western State College, and will be attending Florida Gulf Coast University.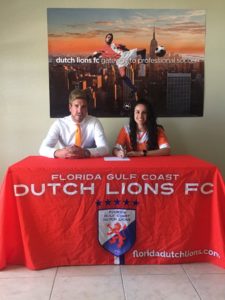 FGCDL FC: What soccer experience you bring to the Women's team?
I played for the girls 96-97 Cape Coral Cyclones team for eight years and was a part of the Ida Baker Girls Varsity Soccer Team for four years. I have the honor of being a part of the 2011-2012 FHSAA Class 4A Soccer State Champions Team, the 2013-2015 Varsity Team Captain, 2014 District Champion, and the 2014-2015 Offensive Player of the Year.
FGCDL FC: What is your best moment in soccer?
The best moment I have ever had in soccer was 2014 district finals against North Fort Myers High School; my teammates and I were driven to win because of our undefeated season. We were 4-4 at the end of the game, so we went into overtime, and the rules of overtime in high school are simple: the first goal wins. We began to play, and my friend took an amazing shot at the goal, but it hit the crossbar and ricochet to the 6-yard box. I was standing right in front of the ball, so I just volleyed it in. We cheered and ran to the center of the field while our coach brought out a Champions banner. We had won district finals with an undefeated season! That was my favorite game and season in my entire soccer career.
FGCDL FC: What do you expect for the upcoming season?
Being a part of the first Florida Gulf Coast Dutch Lions Women's team is an amazing honor. Every woman on this team is unique and brings amazing talent to the field. Individually we are great, but together we will be amazing. With the vigorous training from our coaches and our desire to succeed, I believe that we can make it all the way!
Head Coach Vincent de Weger is ecstatic with signing his first striker for the team: ''Being a striker is not easy. You need to be patient and efficient. Those two assets are exactly why we gave Gabriela a spot on our roster. She is also a striker with a good right and left foot, good in the air and has speed. Being a "killer" in the box is one of her strengths, and that is why I am so pleased that we were able to get Gabriella on our team''.
Want to see Gabriella play? Come to our home opener on June 3rd, 5pm at North Fort Myers Community Park.