Cape Coral, April 6th - Florida Gulf Coast Dutch Lions is really happy to announce Bitsy Bretton as their 6th player for our Women's team this summer. It is great for the team to have a player with soccer experience in the WPSL. We had an interview with Bitsy Bretton and Head Coach Vincent de Weger.
FGCDL FC: Who is Bitsy Bretton?
My name is Elizabeth Bretton, but everyone calls me by my nickname "Bitsy." I am from Fort Myers, Florida and am 17 years old. I am a junior at Bishop Verot Catholic High School. I plan to play soccer in college and will most likely stay in Florida. I plan to major in either premed or prelaw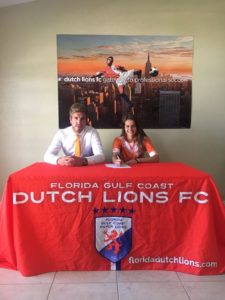 FGCDL FC: What soccer experience you bring to the Women's team?
I began my soccer career playing for the Lee County Strikers, played for Florida Fire Juniors, and am presently playing for the Cape Coral Cyclones(CCSA), in which I have been playing with for the past 4 years. I have been fortunate enough to play with the same core group of girls all growing up. I have always played up an age group in soccer. This year is my last year playing with these girls, which I am sad about, but I am excited for them to start their soccer college careers! I played for the ODP Florida state team and Region III team. I have received the Gannett Newspaper All-County player. I have also played in the WPSL for two years and was a starter both years as an outside left back. I also was awarded the "WPSL All-Star Player of the Year" award and the "WPSL Young Player of the Year" award. My CCSA team and I have played in the Region III PLE and FSPL leagues. We have worked very hard to be the champions of our leagues and many of our tournaments such as Disney, CASL, and Jefferson Cup. We have continued to to rank in the top 5 in the state each year. I have been team captain multiple times over the years. I played varsity soccer both my freshman and sophomore year at my high school, but chose to train with private trainers my junior year instead. We won districts both years and went to regionals both years.
FGCDL FC: What is your best moment in soccer?
My best moment in soccer would probably be scoring from the half line in the upper 90 as an outside back.
FGCDL FC: What do you expect for the upcoming season?
My expectations for the upcoming season is to work hard as both an individual and a team player to be the best I can be both on and off the field. I want to thank all the people who have helped me become the player I am today: my parents and family, Abe Abarbanel, Bill Blevins, Kurt Albrecht, Tye Cole, John Talmage, Melissa Miller, and DJ Wood-Thank you!
Head Coach Vincent de Weger is delighted with his 6th player: The WPSL is a league where the level is high but where a lot of youngsters play in. With Bitsy in our team, we have a player that has the experience with WPSL already. She is a good defender, but she can also play midfield. Her ball control and her vision are a value for our team. We are very happy to have her on our team, and we expect a lot from her this season
Want to see Bitsy play? Come to our home opener on June 3rd, 5pm at North Fort Myers Community Park.