Cape Coral, April 10th- Florida Gulf Coast Dutch Lions is happy to announce that Shelby Rookey will be our 2nd player of our Youth Academy who made the Women's team. We had an interview with her and Head Coach Vincent de Weger
FGCDL FC: Who is Shelby Rookey?
My name is Shelby. I was born in Fort Myers, I lived in Carlinville, Illinois until I was 10 and then moved back to Cape Coral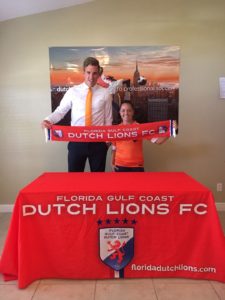 FGCDL FC: What was your high school?
8th Grade at Oasis Middle School (I think I am staying at Oasis High next year)
FGCDL FC: Best moment in soccer?
My first tournament after joining the Dutch Lions, I was playing attacking midfielder and received a ball just past the half line. I took it toward the goal and dribbled through 3 defenders to get a shot off and score. It was a Messi-like highlight play. That was my favorite goal I have ever scored. I also shot a 40yd Free Kick into the upper left corner to beat the keeper.
FGCDL FC: Expectations for the upcoming season?
I really just want to learn and improve my game. I feel like getting the opportunity to play and train with older, more developed players will really help me to become a better player. I am excited to get to know my teammates and experience the WPSL with them. I also hope we do well against what should be very tough competition around the state of Florida.
Head Coach Vincent de Weger is delighted Shelby Rookey: She is a young player. but we have always said: age doesn't matter, it is the skill that you bring to the field. The progression and development that we saw with Shelby was great this year. We hope that she can continue this during the summer. With Shelby, we have a girl in our team that brings passion to the practice and that will be good to raise our level.