Cape Coral, April 18th- Florida Gulf Coast Dutch Lions FC is happy to announce that Rylee Stoehner will be a part of our Women's team. We had an interview with her and Head Coach Vincent de Weger.
FGCDL FC: Rylee, can you tell us who you are, how old you are and where you are from?
I'm Rylee Stoehner, I'm 15 and I am from Cape Coral, Fl.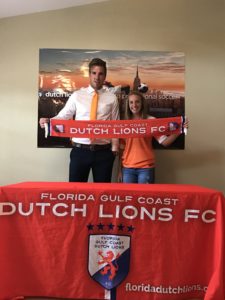 FGCDL FC: On which High School are you and which honours did you got there?
I attend Ida Baker Highschool. I recently received the Freshman Of The Year Award. I also received Player of the game against East Lee on November 21st during high school season.
FGCDL FC: What is your best moment in soccer?
The best moment I've had so far is going  the final four of State Cup with my team last year.
FGCDL FC: What are you expectations of this season?
The expectations I have for the upcoming season are to become a better player while meeting new people and taking in all of the new coaching viewpoints I will get.
Vincent de Weger, Head Coach of Women's team, is delighted with Rylee: "Rylee is that lefty which defensive and attacking skill in her. She has a cross that I barely see and she is making steps on every others aspect of soccer. I am happy that we can guide with our professional coaching and she might be the surprise of the season.