Cape Coral, April 18th- Florida Gulf Coast Dutch Lions FC is delighted to announce Paxton Guerin as their newest player of Women's team. We had an interview with her and Head Coach Vincent.
FGCDL FC: Can you tell us a little bit more about yourself?
My name is Paxton Guerin, I am 17 years old and from Cape Coral (Florida). I play High School soccer for Ida Baker HS Bulldogs.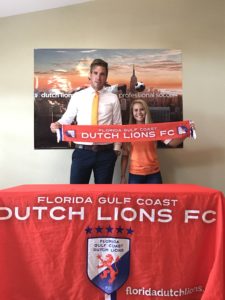 FGCDL FC: What kind of honours did you receive in your player career?
2017 Disney Soccer Showcase Champion
2017 Gannett News-Press All-Area Second Team
2016-17 Ida Baker Girl's Soccer Team Captain
2016 Bazooka Soccer Preseason Tournament Champion
2016-17 Florida State Premier League Champion
2016 Gannett News-Press All-Area Honorable Mention
2015 Florida State Cup Final 8
2015-16 FHSSA Division 4A- 5th most assists in the state
2015-16 FHSSA 4A Regional Semi-Finalists
2015 Ida Baker H.S Freshman Soccer MVP Award
2014 Disney Memorial Day Soccer Shootout Champion
2014 FHSSA 4A Regional Finalist
2014-16 Cape Coral Cyclones u14-u16 Team Captain
FGCDL FC: What are your expectations for the upcoming season?
I want to see improvements in myself physically and mentally. I also want to see our team build chemistry and grow together as a unit.
Head Coach Vincent de Weger is happy to have Paxton in his team: "Paxton is a good player who can play on multiple positions. She is that type of player that you can ask for everything and she always does well. She is a young player, but we like that because we can develop her to where we want and to what is good for  her soccer career. I wish her all the best this season.