Cape Coral, April 13th- Florida Gulf Coast Dutch Lions is happy to announce Weber International player Marianna Scine as the newest player for our Women's team. We had an interview with her and Head Coach Vincent de Weger.
FGCDL FC: Who are you, where are you from and how old are you?
I am Marianna Scine (See-knee), I am from Fort Myers Florida, and I am 17 years old.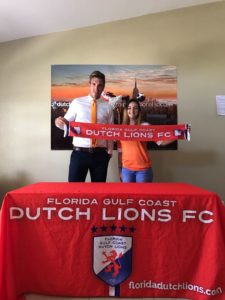 FGCDL FC: What was your highschool and what is you college that you will be attending?
South Fort Myers High. I am attending Webber International University on a soccer scholarship, studying sports business management.
FGCDL FC: What kind of honors did you receive in your player career?
- All conference Second Team offense,
- All conference second team defense,3 consecutive years leading scorer, and team captain.
FGCDL FC: What are your expectations for the upcoming season?
Personally, this season I expect to work extremely hard and become a better player on and off the field. I would like to thank my parents and family for believing in me and my coaches who have stuck by me through everything; Chris Palumbo, Nick Erickson, and Chris Mathurin. As a team I expect us to be competitive, work hard and place women's soccer on center stage in SWFL. We have a great group of women who can make a difference and serve as positive role models for all of youth soccer in the area.
Head Coach Vincent de Weger is happy with Marianna: " She is a player with power and leadership in defense. During the try-outs she picked up our way of playing really quick. Combine this with the aggression in her play and she is a real asset for our team. I look forward to work with Marianna this summer.