Cape Coral, April 18th- Florida Gulf Coast Dutch Lions FC is happy to announce that Haley Rounsifer who plays winger will be a part of our Women's team. We had an interview with her and Head Coach Vincent de Weger
FGCDL FC: Who are you, where are you from and how old are you?
My name is Haley Rounsifer, I am from Cape Coral, FL, and I'm 17.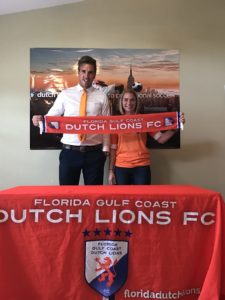 FGCDL FC: What was your high school?
Ida Baker High School Bulldog.
FGCDL FC: What kind of honours did you receive in your player career?
Offensive player of the year, MVP, and Captain.
FGCDL FC: What is your best moment in soccer?
Coming back in my first game from tearing my ACL and scoring a goal to get the lead for my team
FGCDL FC: What are your expectations for the upcoming season?
To give our 100% as a team and make the Dutch Lions FC known for winning
Head Coach Vincent de Weger is elated with Haley: " She is a forward with dynamic in her play. She can play winger, but also striker. During the first try-out she showed us the killer mode in the 18-yard box and I am very happy that I can count on her this summer.