Cape Coral, April 25th- Florida Gulf Coast Dutch Lions is proud to announce Monique Elliott as the newest player for our Women's team. We had an interview with her and Head Coach Vincent de Weger
FGCDL FC: Who are you, where are you from and how old are you?
My name is Monique Elliott, I'm from Cape Coral Fl and I'm 22 years old.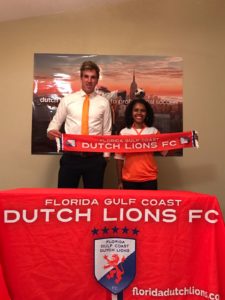 FGCDL FC: For what High school did you played?
I played all four years of High School for Ida Baker Bulldogs.
FGCDL FC: What is/was your college?
I am currently finishing my last semester at Eckerd College
FGCDL FC: What kind of honors did you receive in your player career?
I have received MVP  for three years of my high school career. I was captain my senior year. I was a four year varsity player. I've received 1st team all-conference, 1st team all-region, and All state player multiple times. I've received the Rotary South Scholar Athlete Runner Up Award. I was the all time leading scorer at Ida Baker with 102 goals. I'm a state champion.
I've received MVP my freshman year of college. I've also received athlete of the week multiple times. I've started in every game besides the ones where I was injured. At the end of my junior year I had played 1319 minutes, the most played among non-keepers, and by the end of my senior year I had played 1571 minutes. The banquet for this past season is coming up so these are all of my achievements this far.
FGCDL FC: Best moment in soccer?
My best moment in my soccer career happened during my junior year of high school. My team and I made it to the state championship and I scored the winning goal to give Ida Baker its first Class 4A girls soccer state championship!
FGCDL FC: Expectations for the upcoming season?
Since I am one of the oldest, I expect to provide great leadership to the girls and be a good role model/example for them. I also expect to have a great season with everyone involving a lot of growing, success and fun!
Head Coach Vincent de Weger is beyond happy to have Monique in his team: "She is a phenomenal player. She has speed, power, leadership and defensive skills. We are sure that she will get used to our system and guide our defense to several clean sheets, which is so important during the season. Monique, welcome to our Orange Family."