Cape Coral, April 26th- Florida Gulf Coast Dutch Lions FC is very happy to announce that we signed Casey Winn as a goalkeeper. We had an interview with her and Head Coach Vincent de Weger.
FGCDL FC: Can you tell us who you are?
My name is Casey Winn and I'm from Fort Myers, FL. I am 19 years old and I'm a freshman at Eckerd college.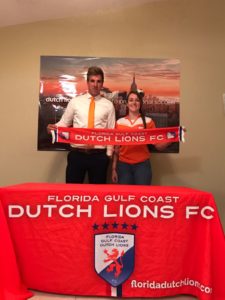 FGCDL FC: For which high school and club teams did you played?
I went to South Fort Myers high.  I played for Florida Fire Juniors who went to the final for my sophomore and junior year and went to state finals senior year. Placing 2nd in the state of Florida. I also played for Palm City FC (a team that FGCDL FC took over) last two years.
FGCDL FC: What kind of honors did you receive during your player career?
2 time MVP at South Fort Myers high, 405 career saves, most shutouts in a season and career in school history.
2 time SSC player of the week at Eckerd College. Received commissioner's honor roll. Most saves in SSC conference for the season.
FGCDL FC: Best moment in your career?
Best soccer moment was receiving player of the week the first week of the season during my freshman debut.
FGCDL FC: What are your expectations this year?
I'm excited for the upcoming season to receive great training and coaching as well as game experience and staying/getting fit for next college season and improve my game to be the best I can be.
Head Coach Vincent de Weger is happy to have Casey on our team: " Casey is a real talent. She is a starter at Eckerd College D2. And besides that she has the capability to build up from behind, but also the kick to open up the field. I look forward to work with her and I know for sure that she will be a better goalkeeper after working with our goalkeeper coach Melissa Jasczak".