Cape Coral, April 18th- Florida Gulf Coast Dutch Lions FC is happy to announce that goalkeeper Adriana Mateo will be a part of our Women's team. We had an interview with her and Head Coach Vincent de Weger.
FGCDL FC: Can you tell a little more about yourself?
My name is Adriana Mateo, I'm 15 and was born in Puerto Rico. I am currently a freshman in Ida Baker high school and play for the U16 A Team for the Cape Coral Cyclones. My team last year were state cup finalists.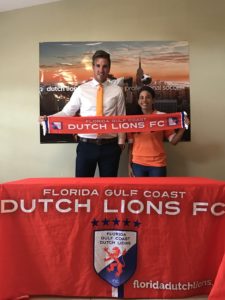 FGCDL FC: What did you accomplish as freshmen at Ida Baker High School soccer?
- Kelme cup champion 2011-16
- 2x Region C Cup champion
- 3x President Cup champion
- 4 year Soccer Unlimited Skills Tournament Series champion
- 2016 & 2017 ESPN World Wide of Sports Disney Showcase Finalists
- Champion and finalist for labor day showcase.
- 2016 Top 4 State Cup finalists. We were the first team in Cyclones history to get to the top four. We got recognized in the Cape Coral Breeze Newspaper.
- 2015-16 ODP Player
- 2013-15 San Carlos u12-u13 Team Captain
FGCDL FC: What are you expectations of this summer?
Become better as an individual and as a team.
Head Coach Vincent de Weger is happy to have Adriana: "She is a goalkeeper who is vocal and who knows the way of playing that we use. I already worked with her last season at Ida Baker and I know for sure that she will grow as a person and as a player.