Cape Coral, April 19th- Florida Gulf Coast Dutch Lions is delighted that we have signed former Nickelodeon's Soccer Superstar Marin Yeagle. We had an interview with Marin and Head Coach Vincent de Weger.
FGCDL FC: Who are you and where are you from?  
My name is Marin J. Yeagle and I am from Estero, Florida.  I am 16 years old and I am a Sophomore.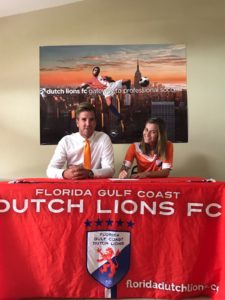 FGCDL FC: Which High School did you attend?
I attend Estero High School
FGCDL FC: What are your former club?
I played for Chicago Fire, Bonita Storm and GPS Florida West.
FGCDL FC: What are you honors in player career?
I got the most goals 172 in a season of Futsal.  (no female had ever won this award)
FGCDL FC: Best moment in soccer?
I was chosen at a tryout to compete in Nickelodeon's Soccer Superstar.  12 girls were chosen across the country and I met some amazing soccer personalities including Dan Metcalfe, Marcelo Balboa, Angela Hucles, and Ally Wagner to name a few. I was in all 6 episodes!
FGCDL FC: What are your expectations for the upcoming season?
I want to learn from my coaches, my team,  and my opposition.  I would like to be the best player I can be and I can accomplish this through new experiences.  I like learning from a new coach and having the opportunity to meet new teammates.
Head Coach is happy with Marin Yeagle: "Marin is a player with foot skills because of her experience by playing field soccer, but also futsal. Besides that, she can play as attacking midfielder or winger and that give me extra possibilities.