Cape Coral, March 10th – Florida Gulf Coast Dutch Lions FC is pleased to introduce Melissa Jasczak as a Goalkeeper coach to the staff of our WPSL Women's team. Currently, she is goalkeeper Coach of GPS Florida West, and during the summer program, she is on loan to our Women's team. After the summer she will return to GPS Florida West.
Who is Melissa Jasczak?
I am Melissa Jasczak, from Tampa, Florida and I am 23 years old. I have 12 years of competitive soccer before college. Goalkeeper for Nova Southeastern D2 and a briefly with FGCU D1. Coaching for 4 years now goalkeepers and teams ranging from U12 – U18. I am a nationally accredited goalkeeping coach. At the moment I am the Goalkeeper Coach of GPS Florida West.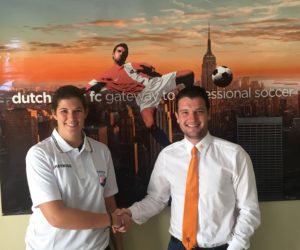 Could you tell us why you like to practice with goalkeepers?
I was a goalkeeper for most of my soccer career, and I understand the mental and physical demand the position holds. They have a role that requires multiple abilities, as well and an unspoken leadership position on the team and I will supply them with the necessary tools to be successful.
What is important for a goalkeeper of the Women's team?
A goalkeeper of the Women's team is required to have quality footwork on and off the ball. Be able to play with their feet, and give quality distribution. They should have full knowledge of catching techniques. Goalkeepers should have a high soccer IQ, can read the game, and organize the defense.
Why do you want to be part of the staff of the Women's team?
Being a part of FGCDL allows me to be a part of a new program, to help contribute to the high standards of the program, and to set the tone for the future.
Head Coach Vincent de Weger is delighted tot add Melissa to the staff this summer: ''Melissa is a Goalkeeper Coach with experience. She has all the goalkeepers licenses that you can have, and she attends very often goalkeeper courses to stay up to date. That dedication is something we search for in our goalkeepers. Together with the skills she can teach, she is an amazing fit for our staff.
Want to see our team play? Come to our home opener on June 3rd, 5pm at North Fort Myers Community Park.